Given the fact that nearly total media digitalization and diversification are fully upon us now, many marketers wonder how to effectively run advertising campaigns online.

Ad distribution can't be magically done in a blink of an eye. Advertising across multiple online media calls for a huge budget, and buying ads individually takes ages.

These challenges can be quickly solved with Display & Video 360 aka DV360, one of Google Marketing Platform suites.

In this blog post, we will explain how DV360 works, how it differs from GDN, another ad serving product from Google, its pros and cons, and how to use it.
Table of Contents
1 What is DV360?
-1.1. DV360 vs. Google Display Network (GDN)
-1.2. Linking with GDN
2 Advantages of DV360
-2.1. Largest inventory in Japan
-2.2. In-depth targeting
-2.3. DV360 can manage ad campaigns and audiences at once
-2.4. Wide Variety of creative formats
3 Disadvantages of DV360
4 How to run your ads with DV360
-4.1. Step 1: Making Creatives
-4.2. Step 2: Finding ad space and negotiating deals
-4.3. Step 3: Setting up campaigns
5 Wrapping Up
1. What is DV360?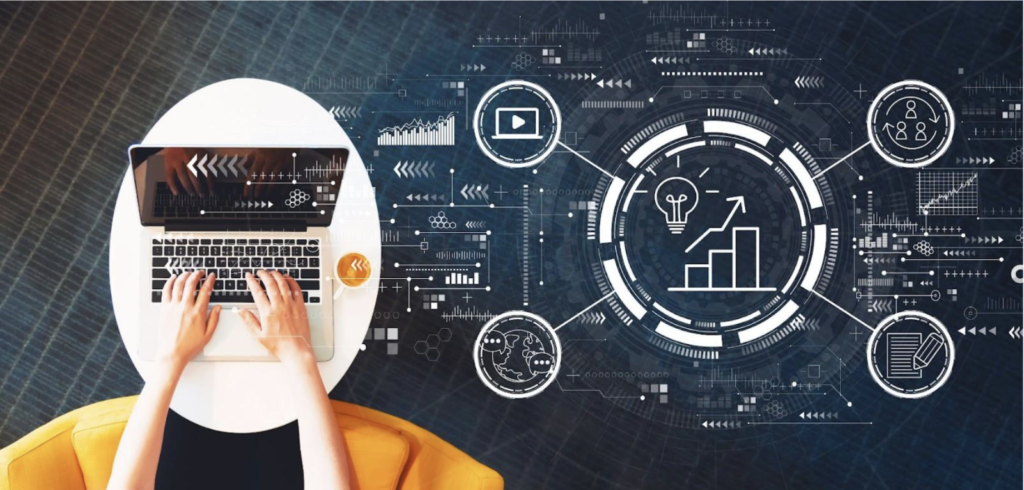 DV360, powered by Google, is an ad serving solution that integrated many distribution services.

Originally a marketing platform operating known as DoubleClick Bid Manager, it was relaunched as a single service in July 2018, combining several services for Google advertisers.

Here are the services that were put together.

DV360 is built to target and analyze your ads, search and manage best ad space matching your ad categories and efficiently expand your reach with its largest inventory.
1.1. DV360 vs. Google Display Network (GDN)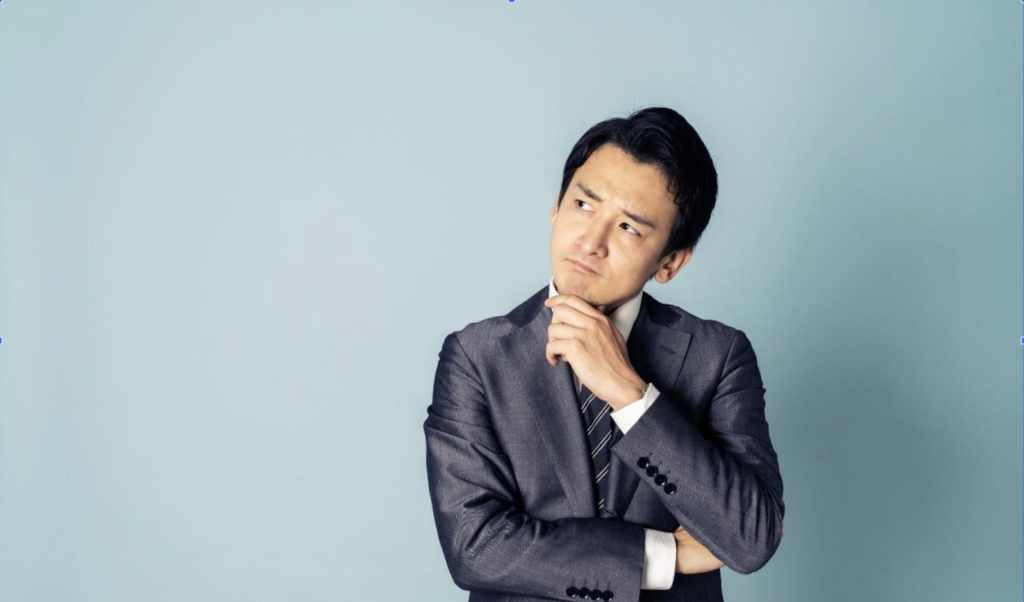 Since both DV360 and GDN are Google's platforms for display ad serving, some may not know the difference.

DV360 and GDN differ significantly in reach and scale.

GDN allows ads to be placed on more than 2 million affiliated web media and apps, including renowned Google services such as YouTube and Gmail.

DV360, by contrast, gives advertisers more diverse traffic for their campaigns through its access not only to Google-based inventory covered by GDN, but also to major SSPs outside of Google. There is a clear difference in coverage: for example, GDN can't place ads on Yahoo! while DV360 can. While GDN is a vast network capable of displaying ads to more than 90% of the world's Internet users, DV360 has more than twice the inventory of GDN.

What's more, DV360 is also connected to digital billboards, so it has a significant advantage in reach and scale, as shown in more detail below.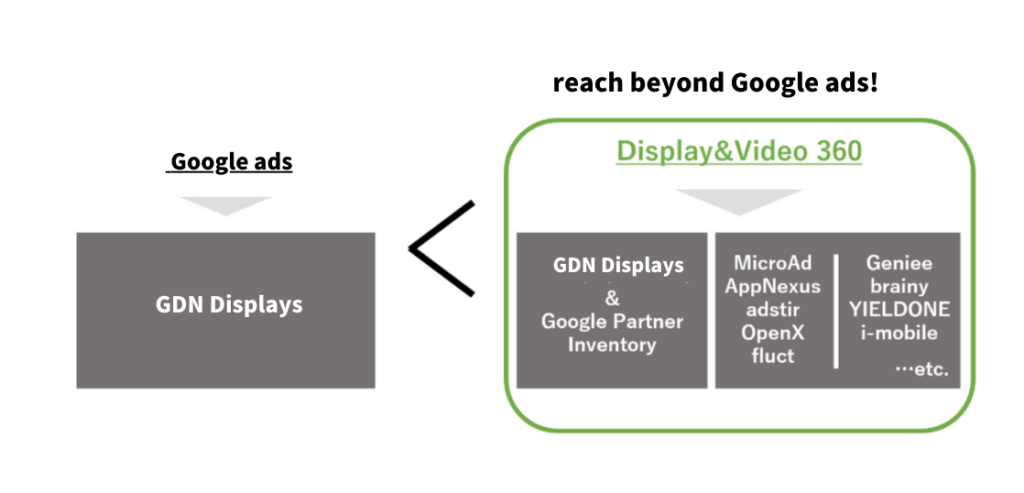 1.2. Linking with GDN
If you are already using a GDN, DV360 can be linked with your GDN to share data. Remarketing lists can be synchronized if GDN remarketing was originally set up. You don't need to make the lists over from scratch.

With the existing GDN operation data and remarketing lists, you can expand your reach with in-depth targeting, bolstering your ad distribution more effectively.
2. Advantages of DV360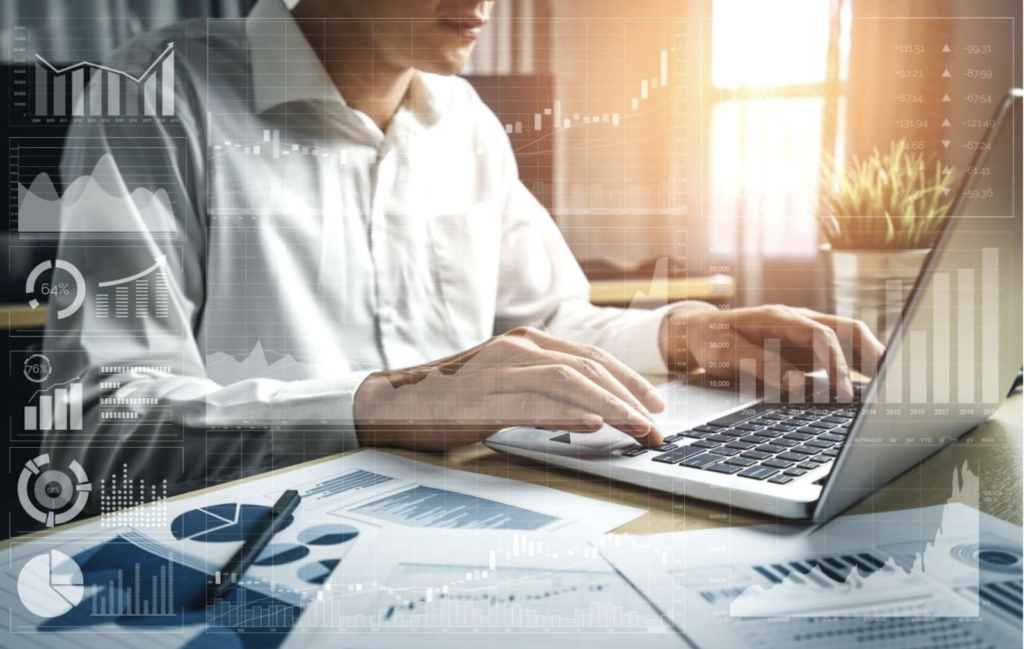 DV360 has the following four advantages:

Now we'll look at each of them.
2.1. Largest inventory in Japan
DV360 can buy inventory from Google, major SSPs, OTT services, and advertising screens inside taxis. It's the largest ad network in Japan with 380 billion domestic impressions, where you can find exact inventory types you want by synchronizing targeting and marketing lists.

Many major platforms are already available with DV360, and an even wider range will be available in the future.

The major inventory holders available are as follows: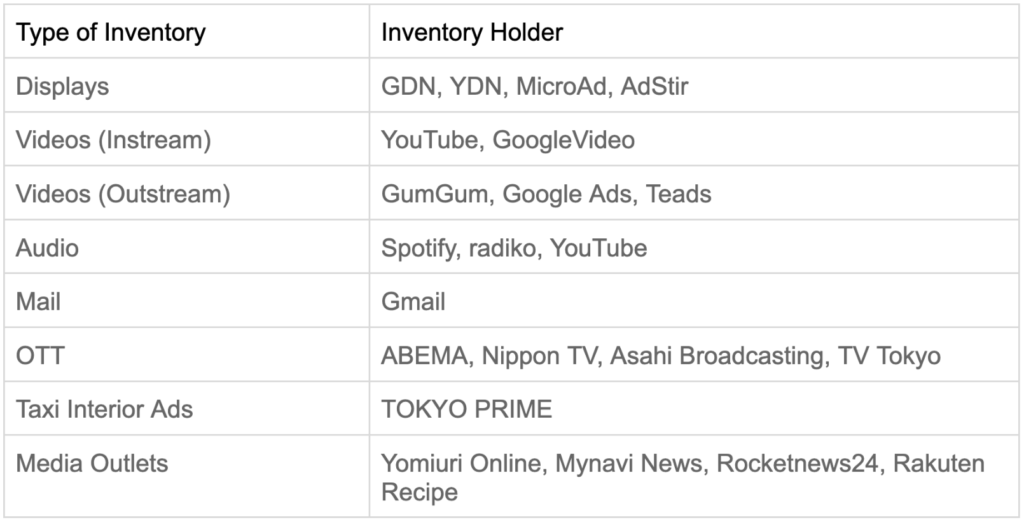 DV360 is extremely flexible as it can offer packaged distribution such as serving only specific category types in its abundant inventory.

In addition, as with GDN, DV360's high precision targeting can be configured in many ways, across the inventory about twice as large as that of GDN, significantly expanding your reach.
2.2. In-depth targeting
With DV360, you can apply detailed targeting settings available within Google to non-Google SSPs and OTTs.

You can target your audience in a more elaborate way compared to default specifications of each media service, a more appropriate and personalized approach known as in-depth targeting.

Specifically, availability of Google-provided lists allows you to set location-based targeting by filtering by zip code or address.

Furthermore, audience interests lists can be leveraged to pinpoint ads only to users who are considering purchases.

Leveraging Google's detailed targeting, you could create more effective and strong campaigns to rack up better conversion rates with DV360.
2.3. DV360 can manage ad campaigns and audiences at once
DV360 has an advantage of simultaneous audience and campaign management.

Running ads on multiple platforms adds to the budget and it's time-consuming as well. Finding media with relevant inventory is an especially painstaking task, and more media means more budgets and KPIs you have to set to monitor effectiveness.

DV360 makes it easy to search all available media, greatly reducing the time and effort required to implement campaigns.

As mentioned above, DV360 is also connected to services other than those provided by Google, making it possible to pick the most appropriate media from the largest inventory pool in Japan.

You can also leverage Google data along with your own and third-party data to grow and manage your audience.

Besides, buying via DV360 brings you comprehensive evaluation and reporting, allowing distribution control across multiple media in a single step.
2.4 Wide variety of creative formats
17 types of rich media creative including formats like 3D and audio are available to distribute in DV360. Those creatives are easy to build and would remarkably improve campaign performance.

In addition, when Google Studio is linked, you can generate and manage advanced creatives for weather or geolocation-based advertising.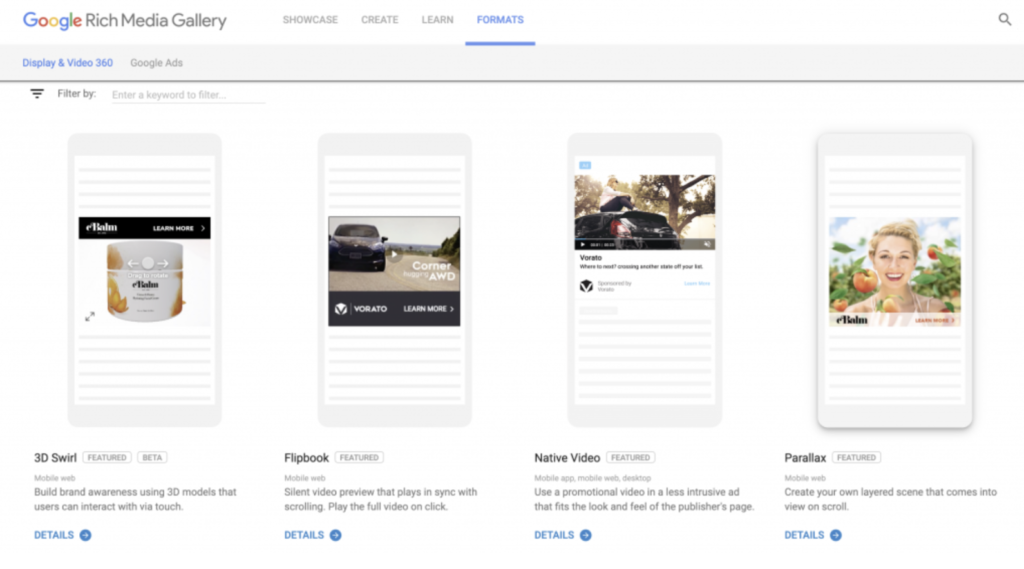 3. Disadvantages of DV360
There are not so many noticeable disadvantages, but one should note that its incredibly high flexibility makes it difficult to use, and it is a closed rather than an open platform.

DV360 is not like Adwords or GDN, where anyone can open and operate an account. Only a limited number of companies can use it. Individual affiliates can't easily get an account.

To give an example of high flexibility issue, when connected to many SPPs, it is difficult to manage an exceedingly large distribution area for those who are not used to it.

Furthermore, DV360 itself is not that well known, so there are not so many publicly available instructions, which might be inconvenient.
4. How to run your ads with DV360
Here is a process of distribution with DV360

Let's have a look at each one.
4.1 Making creatives
DV360 can deliver a wide variety of ad types, including video, display, and audio, in different media.

However, content relating to tobacco, weapons, nudity, defamation/hatred, illegal activities, profanity or spyware is prohibited.

Some ad formats and inventories may have other requirements depending on their characteristics. Please refer to google's creative guidelines for more information.
4.2 Finding ad space and negotiating deals
Once you've found an inventory that suits your needs, you begin negotiating in one of two ways.

DV360 offers a range of ad slots, including Marketplace, guaranteed deals, non-guaranteed fixed deals, and private inventory. If you'd like to learn more, head over to Google Help on both finding and negotiating inventories.
4.3 Setting up campaigns
You can do it in three steps.

In campaign creation, you create insertion orders and set bid prices and budget.

A variety of settings are available for targeting, including audience, content, technology, and inventory source, helping filter out purchase-oriented audiences.

Types of line items also vary depending on the media you purchase, such as YouTube, video inventories, mobile apps, etc. Click here for more details.
5. Wrapping Up
DV360, Google's demand side platform, has one of the largest ad networks in Japan with the largest inventory. With DV360, you can use detailed targeting provided by Google, implementing various measures to increase conversions.

And let's not forget the benefit of being able to manage audiences and ad campaigns in one place, which can greatly reduce the amount of work involved in a marketing effort.

If you are looking to implement an efficient ad strategy, DV360 would be the best tool with many benefits over other programmatic advertising platforms.