In this rapidly changing environment, publishers must establish revenue streams beyond advertising revenues to secure their earnings and continue their growth.
However, implementing paid articles or subscription models requires more than system integration. It involves a comprehensive change in the business model, including article selection and maintaining user experience (UX), which can pose technical challenges for new business development.
Micropayments, which enable small payments for services such as article viewing and digital content usage, are gaining attention as a solution to these challenges. This article will introduce the concept of micropayments and how to utilize them.
If you are considering implementing paid articles or subscriptions but face psychological, organizational, and business hurdles, this article is a perfect guide.



1.Changes in the Digital Advertising Environment
According to the research report published by Market Research Future (MRFR), the global digital content market was estimated to be worth USD 162.9 billion in 2022, expected to increase at a compound annual growth rate (CAGR) of 6.30% between 2023 and 2032, from USD 173.2 billion in 2023 to USD 282.3 billion by 2032. It is expected to grow as the digital transformation (DX) of content progresses.
On the other hand, in the United States and Europe, the rise in personal data protection and regulations on major platforms have led to significant revenue losses for players like Google and Meta. Influenced by these macro-environmental changes, primary media in the United States are moving away from ad revenue dependence, and the number of publishers introducing subscription models is increasing.
Notable success stories include "The New York Times" and "The Washington Post." Both companies limited the free provision of online articles and demanded payment for premium content. As a result, they successfully increased their revenue from paid content significantly.
<The Washington Post: There is a Login link for the subscription users above the ads>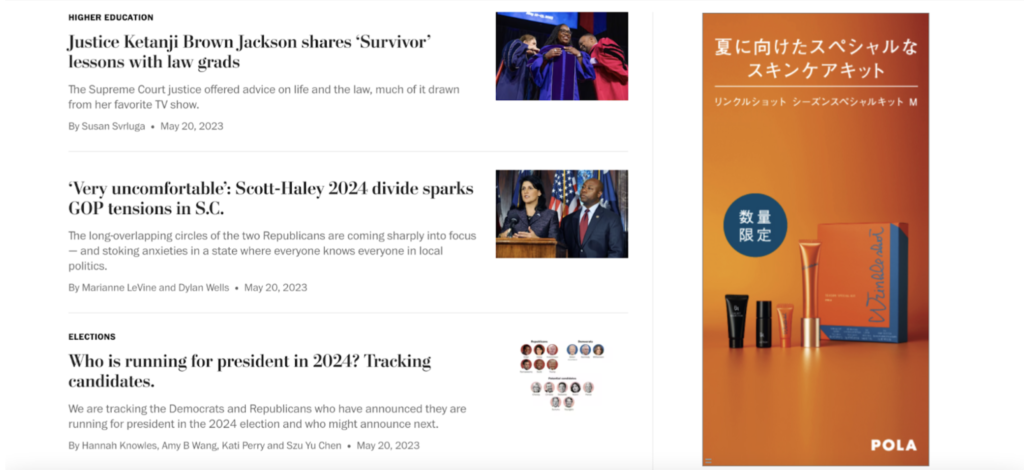 2. What are Micropayments?
Micropayments refer to small payments for services or digital content provided on the Internet. For example, they subscribe to a favorite article for a few cents. However, high fees and complicated procedures were required for such payments, creating a cost that did not match the small payment amount. However, the advent of micropayment technology has made it possible to make small payments efficiently.
Today, micropayments are used in various situations, such as accessing digital content and services online, subscribing to articles and blogs, streaming music and movies, and purchasing in-game items.
Especially in web media, introducing paywalls using micropayments can offer the following benefits:
Access to Low-Cost Content: Users can access articles and content without overcoming the high hurdle of payment. This leads to new revenue opportunities, such as improved user engagement and unlocking premium content.

Increased User Engagement: Micropayments also serve as a means to show support and appreciation for web media. Users can make small payments as a favorable evaluation or support for content providers. This can deepen the relationship between content publishers and users, potentially increasing user engagement.

Diversification of Revenue: By introducing micropayments, web media can diversify their revenue streams. They can combine various revenue models, such as small payments from users, subscription fees, and access to premium content, rather than relying solely on advertising revenue.

Improvement in Content Quality: Micropayments act as a reward or incentive for content providers. This can encourage the provision of higher-quality content and the creation of new content.
3. The Dwindling Reliability of Traditional Advertising Revenue
Digital publishing has undergone significant shifts, with traditional revenue models facing unprecedented challenges. The decline in advertising revenue due to the expansion of global regulations and the spread of ad blockers among users makes it increasingly difficult for publishers to secure revenue. This changing dynamic is not just a temporary hiccup but a reflection of broader changes in user behavior and regulatory environments.
As a result, publishers are at a crossroads. Relying solely on advertising revenue is no longer a sustainable strategy. The pressing question becomes: How can publishers diversify their revenue streams and ensure financial stability in this new landscape? The answer lies in exploring alternative monetization strategies, one of which is micropayments, a concept that will be delved into in the subsequent sections.
4. Paywalls Using Micropayments as a Solution
By utilizing micropayments, implementing paywalls for small amounts is more accessible. Alongside this problem, it is crucial to research the kind of content users would be willing to pay for in advance.
However, it is also true that you need to introduce paid articles and verify their effects to ensure the criteria for selecting content are apparent. Therefore, by utilizing micropayments, you can make some articles delivered while keeping the payment hurdle low for users.
5. Introducing FourM and AnyManager
Using our service, AnyManager, you can quickly implement a paywall for small amounts on your web media by installing our unique js tag. When publishers execute a paywall independently, it takes a lot of time and development costs. We have signed a partnership agreement with Fewcents, a fintech startup from Singapore that supports revenue generation for publishers, to enable the implementation of paywalls via AnyManager.
<UI Image of a Media that Implemented the Micropayment System by Fewcents>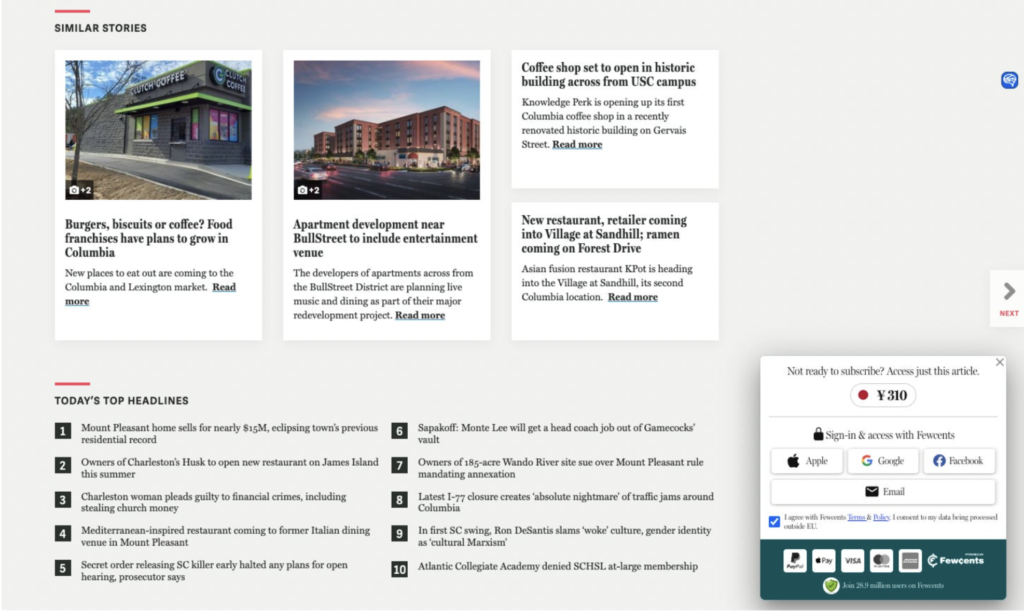 A successful example of implementing Fewcents' service is the Indian daily newspaper "Sakal." The company saw a 30% decrease in print advertising revenue in 2018-2019 and introduced micropayments as the first step in its digital strategy. Although they initially developed and implemented a system in-house, it did not work out as planned, leading them to adopt Fewcents.
As a result, the number of paying users doubled within six months of implementation, and the RPM (Revenue Per Mille) for users who logged in once increased by 114 times. Furthermore, the content purchase repeat rate is high, with about 20% of users purchasing more than ten pieces of content per month.
FourM has been supporting advertising monetization on many web media in Japan so far. Still, with this contract as a starting point, we can contribute to establishing a more sustainable media business than ever by combining content sales.
As for micropayments, you can only expect revenue by introducing a paywall. FourM will provide support while accompanying each web media through consulting, determining the optimal way to introduce paywalls, pricing, and other factors to make the content sellable.
Micropayments are about more than just introducing paywalls. FourM provides support through consulting to determine the optimal way to introduce paywalls for each web media, set prices, and make content sellable. Integrating Fewcents' technology and FourM's knowledge of media growth has significant implications for supporting publishers passionate about creating content.
資料ダウンロード
AnyManagerのご紹介資料がダウンロードいただけます。
ダウンロードはこちら
お問い合わせ
AnyManagerに関するご質問、お見積りなど、お気軽にお問いわせください。
お問い合わせはこちら