When starting digital advertising, one would want to choose an advertising program that generates stable revenue.
Google AdSense is a popular digital ad program that allows you to get stable revenue proportional to the number of clicks on ads, no matter how big your website is..
Understanding how AdSense works would maximize your revenue. In this post we'd like to help you grasp some basic specifics on this easy-to-operate Google platform.
Table of Contents
1. What is Google AdSense?
2. How does AdSense work?
 2. 1How AdSense decides which ads to display
 2.2 4 Main ad formats
 2.3 Revenue will be generated as ads get clicked
 2.4 Framework for Generating Revenue
3. How to get started with AdSense
 3.1 Make your website meet eligibility criteria
 3.2 Set up a Google account
 3.3 Sign up for AdSense
 3.4 Complete your customer information for payment
 3.5 Take your Google AdSense code and put it into your site
 3.6 Wait for AdSense approval
4. Difference between Google AdSense and Google AdExchange
5. Conclusion
1. What is Google AdSense?
Google AdSense is an ad platform that employs a pay-per-click (PPC) advertising model. Each time the ads are clicked, revenue is generated.
Getting started with AdSense is pretty easy, you just insert some code snippets into your website and you're all set to make money through advertising. Ads automatically displayed through AdSense are quite relevant to your websites and its viewers.
Before starting to use AdSense, it's mandatory to get your website reviewed by Google for eligibility. An original domain name and a privacy policy are prerequisites.
2. How does AdSense work?
AdSense doesn't require banner production, and you don't need to contact advertisers' salespeople to get ads for publishing, which makes it easy for both individuals and companies to start ad monetization.
However, thanks to its unique simplicity AdSense saves your time and development resources, as you can run it with minimum understanding of its modus operandi.
So, we'll give you just a basic explanation and that will be enough to start using AdSense.
2.1. How AdSense Decides which Ads to Display
Ads to be displayed are determined by the contents of your website and a user's cookies.
For example, a website that mainly publishes articles on programming, artificial intelligence and cloud computing is more likely to display IT-related ads, and if a user regularly looks up software and hardware, he/she will come across ads of this category more frequently.
The gist is that website owners cannot pick ad contents they'd like to show, as AdSense determines them automatically.
2.2. 4 Main Ad Formats
Google AdSense displays four main ad formats: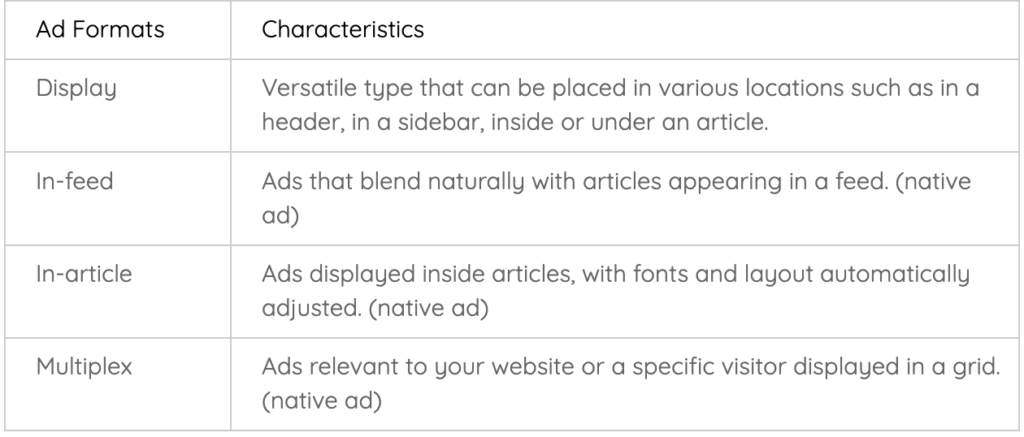 Ad placement strategies should be chosen carefully based on your website management policy.
For example, as multiplex format means that several ads are shown side by side, it would effectively blend in and generate good revenue on personal, lifestyle and general blogs where posting varied articles is the norm.
On the other hand, in some cases, too many ads may increase abandonment rate or decrease the number of PVs and pages per visit.
To avoid such cases and maximize ad revenue, we recommend analyzing and improving your placement strategy using Google Analytics and Search Console on a regular basis.
2.3. Revenue Will Be Generated as Ads Get Clicked

Among these, CPC is a metric that has a significant impact on revenue.
Market price of a click is roughly between 30-50 yen, and anything over 100 yen is positioned as a high value. Price of a click on an ad for certain industries such as finance or insurance may exceed several hundred yen because advertisers are willing to pay more.
CTR is the ratio of clicks to impressions and it shows the share of viewers who actually go on to click an ad. The ratio depends on a viewer's feeling and the quality of the visuals and copies in an ad
In general, CTR tends to hover between 1.25% – 2.5%, and if an ad catches viewers' interest, you can expect CTR as high as 3% or more.
2.4. Framework for Generating Revenue
The following is a simplified process of how revenue is generate and distributed through Google AdSense:
Step1. Advertisers join AdSense.
Step2. AdSense provides site owners with a code snippet.
Step3. Site owners add the code snippet into their websites.
Step4. AdSense displays ads where code snippets are integrated.
Step5. Viewers click ads (revenue is generated).
Step6. Advertisers pay AdSense for the clicks.
Step7. AdSense pays site owners for the clicks.
As you can see, the process begins with advertisers sign-up for AdSense and ends with Google paying website owners.
3. How to get started with AdSense?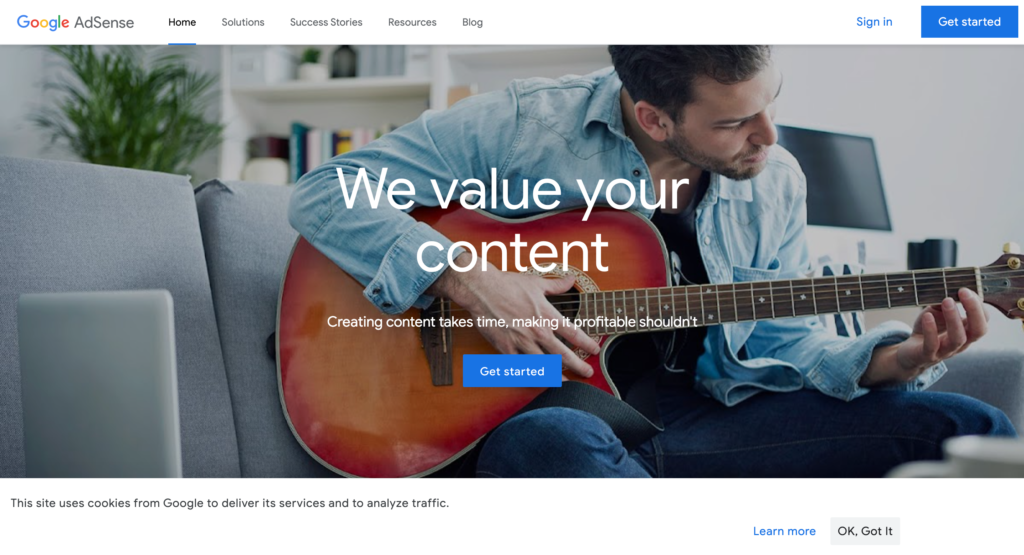 To get started, first you need to make your website eligible for AdSense.
Here is the simplified process:

3.1. Make Your Website Meet Eligibility Criteria

While the exact eligibility criteria are not disclosed, they say that registering your own domain names, rather than hosting your website on a provider's second-level subdomain, could help you pass the approval process.
As for the volume of your website, 15 or more pages of original content will be advantageous.
Additionally, your website must clearly state how it handles acquired visitor information, in accordance with its privacy policy.
Other points that will be looked at during the review include if the sites have information on administrators, terms of conditions, and disclaimers.
Other points to be considered during the review are information on administrators, terms of service and disclaimers.
3.2. Set Up a Google Account
Google Account can be either personal or business, and if you set it up on behalf of a legal entity, you should certainly choose business.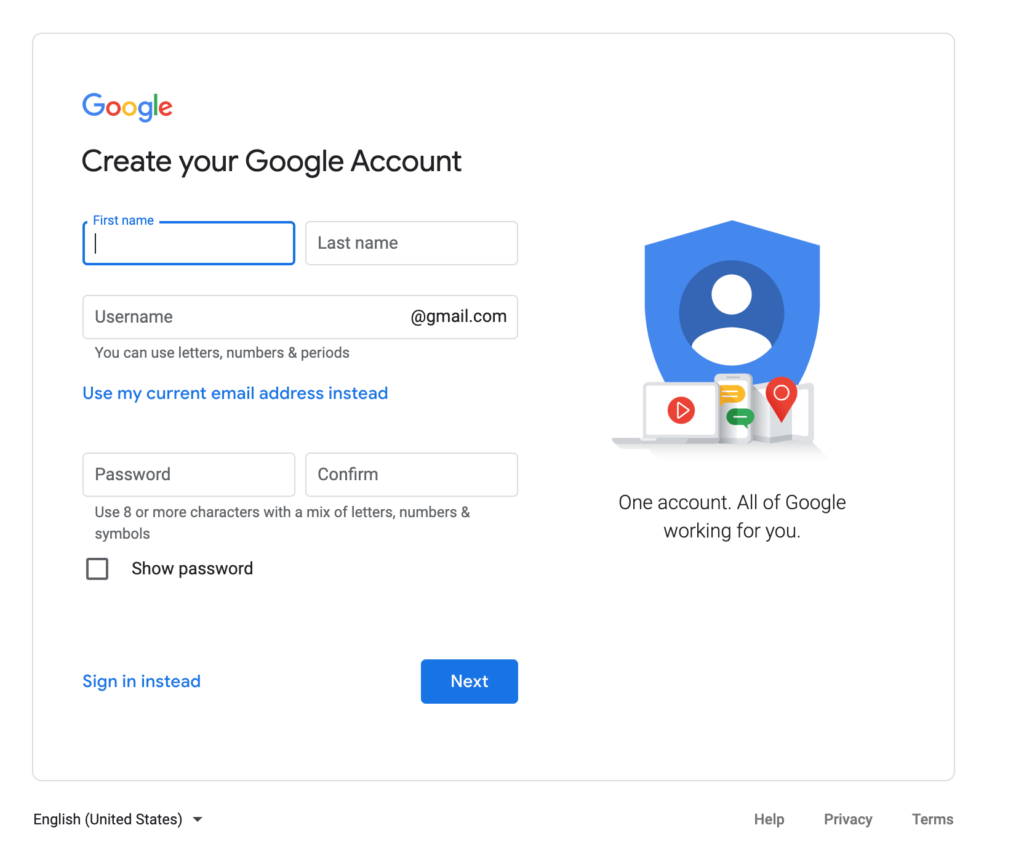 3.3. Sign Up for AdSense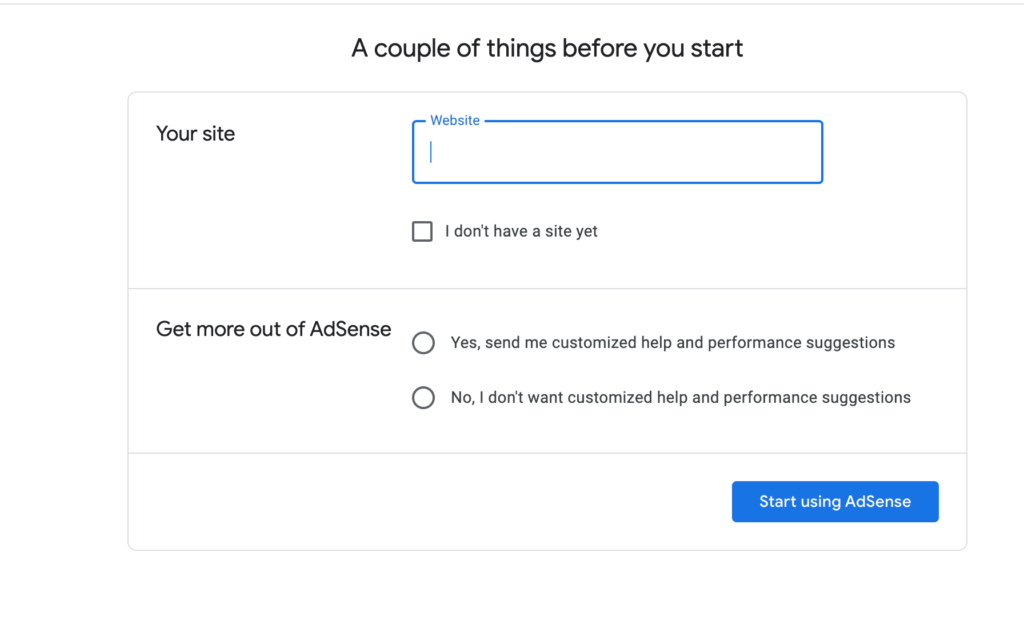 Visit the official AdSense website and click the 'Get Started' button. In the application form, enter website URL and administrator's email address and move on to create your account.
3.4. Complete Your Customer Information for Payments
When signing up, you will be required to enter your payment profile including your business name, owner's name, address, phone number (optional), email address and bank details.
If it's the first time you are signing up for AdSense, you might be required to authenticate your phone number.
3.5. Take Your Google AdSense Code and Put It Into Your Site
You need to add Google AdSense Code that AdSense provides to your website in the
section.
3.6. Wait for AdSense Approval
Now you just need to wait for AdSense to review your website.
In the fastest case, no matter whether you pass or not, the result would be out next day, but sometimes it takes longer, like a month. If your website is approved you'll see a celebratory message appear on your AdSense page.
You can try to get reviewed again in case you failed, but we recommend you do so after a little certain checks and adjustment:

4. Difference between AdSense and AdExchange
Google AdX, sometimes compared to AdSense, is an invitation-only programmatic advertising platform.
Unlike Google AdSense that is open to anyone, Google AdX only allows websites that have received special authorization from Google; if a website is operated by a legal entity and has more than several million PVs, Google could possibly send out an invitation..
Google AdX makes many features available including private auctions, floor pricing, header bidding, and also preferred deals at fixed CPM with specific buyers, as well as private auctions with a CPM floor price on per-buyer basis.
Thus Google AdX is a premium ad service, but you have to overcome a big hurdle to join. While the traffic of your website is still low, it's common to start advertising with AdSense and increase PV by distributing amazing content.
In short, Google AdX is a premium ad service, but you have to be eligible for it. While the traffic of your website is still low, it's a common tactic to start advertising with AdSense while increasing PVs thanks to good content.
5. Conclusion
Google AdSense is widely recognised as a user-friendly ad program.
Displayed ads vary depending on content of a page and preferences of a viewer, and you are paid each time a viewer clicks on an ads.
Applying for it is quick and easy, but you need to get your own domain and quality content to pass Google's review.
After your website gets approved, set ad formats that are appropriate for your website management policy, and take measures to increase CTR to increase revenue.